Source: Renewable Energy Magazine
Author:  Robin Whitlock
Cleantech Solar, the pan-Asian supplier of renewable energy to corporates, has received a $50 million equity investment from climate-dedicated investment manager and manager of the Climate Investor One facility Climate Fund Managers (CFM), to support its exponential growth in Asia.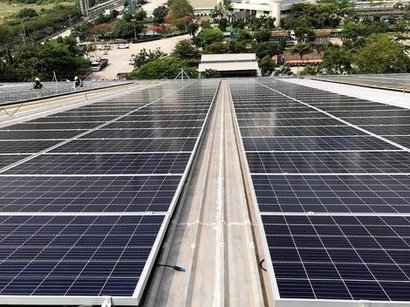 Courtesy of Cleantech Solar
The partnership, which will continue to operate under the Cleantech Solar brand, brings together unique and complementary strengths of the two respected organisations. Cleantech Solar will leverage its solar expertise and proven track record in providing world-class solar power plants to multinationals and leading local corporations in Asia. Climate Fund Managers, with the support of the Dutch Development Bank, FMO, and Sanlam InfraWorks, will bring access to prime, long-term institutional capital, to further strengthen the company's balance sheet and sustain its future expansion.
The investment will facilitate the growth of Cleantech Solar's total installed solar capacity in the Commercial and Industrial sector to over 450 MW with a target to generate over 600 GWh of clean electricity per annum, cutting down carbon emissions by almost 500,000 tonnes per year.
"Our goal at Cleantech Solar has always been to deliver reliable, efficient and long-term renewable energy solutions to some of the finest corporations in Asia who are committed to transition to renewable energy in the coming years" said Raju Shukla, Cleantech Solar Founder and Executive Chairman. "We are indeed privileged to partner with Climate Fund Managers who share our vision and commitment towards building long-term partnerships. Together, we hope to bring tremendous value to our clients and help them meet their sustainability goals."
This investment comes at a time when the demand for clean energy from corporations is breaking new records. This demand is driven by a combination of increased focus on emission reduction; minimising risk exposure to volatile energy markets and a unique opportunity to replace grid supplied power with lower cost solar electricity.
Image: Cleantech Solar 1 MWp Solar Project in Thailand (courtesy of Cleantech Solar)
For additional information: